The Crowdsourcing app enables cities, local governments, and other organizations to easily and quickly get anonymous feedback and problem reports from their citizens. The application will be fully branded and personalized, which means that you will be able to add your custom logo, colors, and design as well as the specific interface options.
GIS Cloud Crowdsourcing solution includes:
Branded Mobile App (Android and iOS – available on Google Play and App Store)
Branded and customized Public Web Portal
Admin Web App
The main application used to edit crowdsourcing projects is the Admin Web App, which is only a part of the Crowdsourcing solution. After creating a project form, it can be modified at any time, and it can have many different attribute field types (Date & Time, Checkboxes, Photos, Audio field, etc.). The procedure for creating a project is basically the same as creating the MDC form for the field collecting.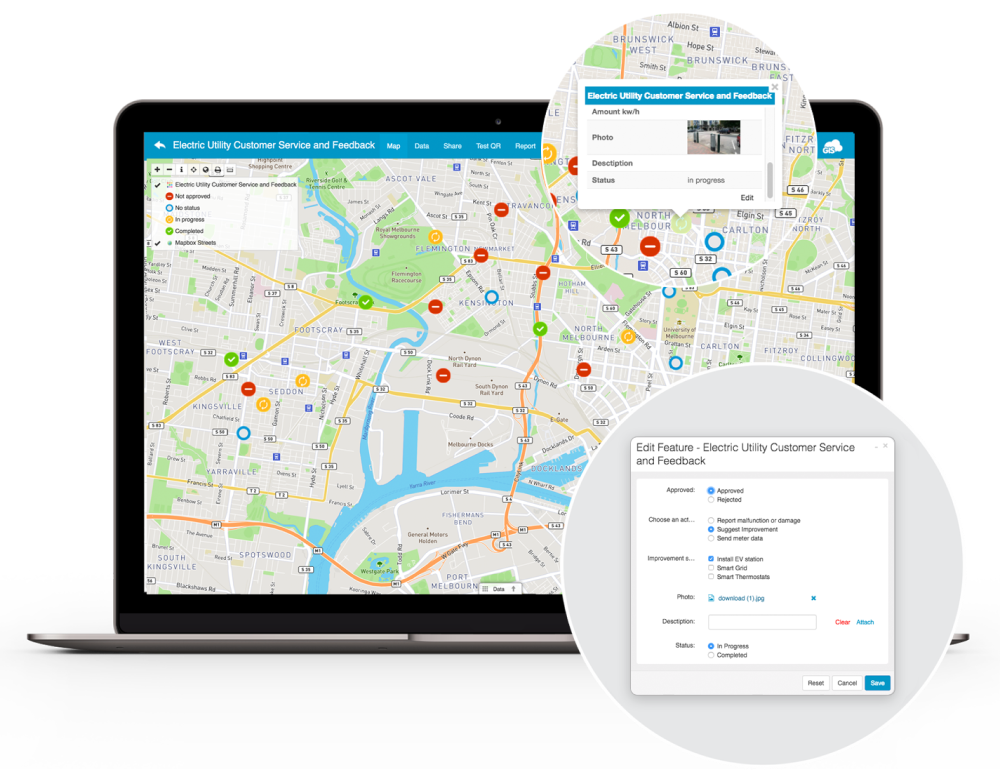 This app allows the Project Coordinator to review submitted reports, problems, and observations. Project Coordinator can approve or reject submissions, update the status of the reported issue and coordinate between departments. He can also track progress and have an overview of statistics through graphs and charts.
The Project Coordinator's ability to approve or reject a submission for public viewing stands as a form of protection, that is data liability control because not all submissions are always complete or adequate for release to the public. Project Coordinator will accept only the reports and submissions that are complete and in compliance with the regulations of the organization which is collecting the data.
After the data is collected, you can use other GIS Cloud apps such as Map Editor to style and analyze the data, import more layers of data to have a better overview of the project, as well as to share it with other interested parties. You can also organize teams which have to do repairs or replacements or confirm the reported issues. Learn about all these possibilities in this webinar recording.
If you would like to get more info about Crowdsourcing app, feel free to contact us at sales@giscloud.com