File Manager is used for managing and uploading files to GIS Cloud. All spatial and non-spatial data (including media files) uploaded to your GIS Cloud account is firstly stored in your File Manager
File Manager can be found under Tools tab. Clicking the File Manager button opens the File Manager options window.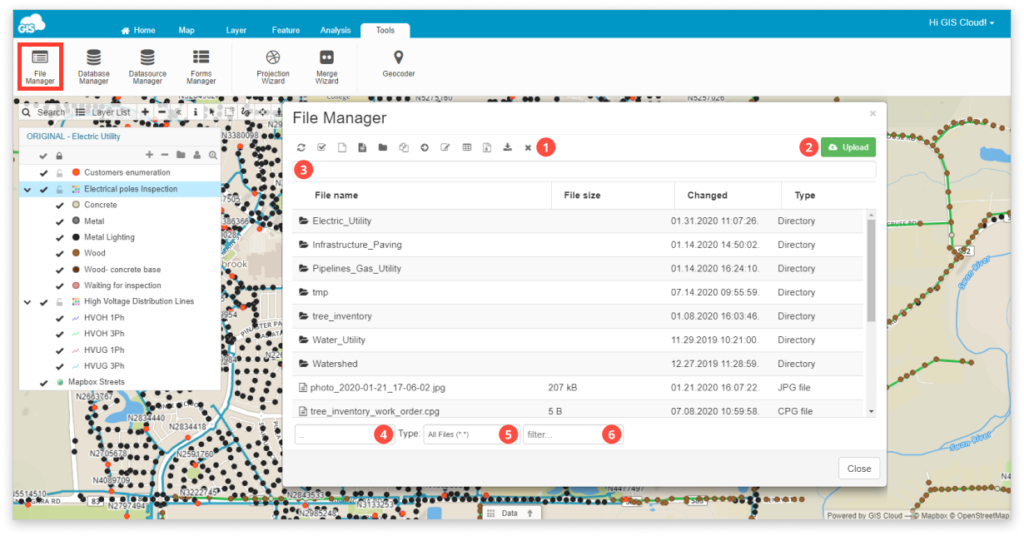 List of File Manager tools:

Refresh Current Folder
Select All
Create a new file – Filename cannot contain '/' or '\' characters.
Edit text file – edit a text file.
Create New folder
Duplicate file/folder
Move to different folder
Rename
Edit structure – Add and remove layer attributes. At the moment only ESRI Shapefile is supported.
Unzip archive – If the uploaded folder is zipped, this option extracts files. Note that only .zip files are supported.
Download selected file(s) – Download files locally on your PC.
Delete – delete selected file/folder. This operation can't be undone.
Upload files from your computer.
Address bar – Shows the path to the selected file.
Name of the currently selected file/folder.
Filter files by file type.
Search files by name.
To perform geometry or attributes editing, layer has to be imported from the File Manager to the Database.
Learn more about uploading the data to File Manager. Also, find out more about File Manager as data source.
Take a look which are supported data sources in GIS Cloud in this guide.