Create your custom form for field data collection using Mobile Data Collection Portal. Enter MDC Portal and then click on create a new project button to open a pop-up window where you define the basic information of your new project.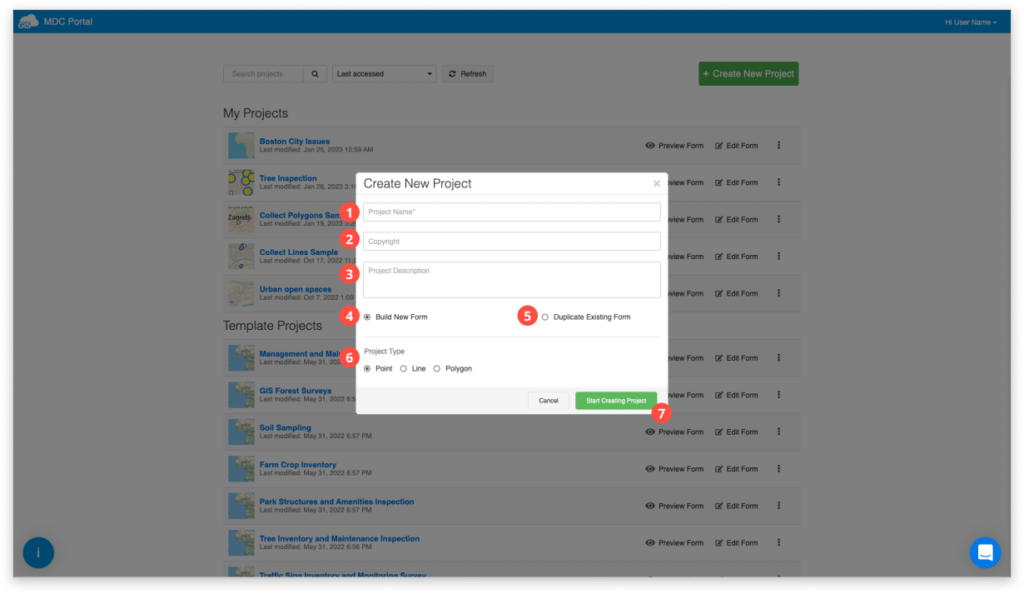 Project Name – define the name of your project
Copyright – get copyright for your project
Project Description – type in a short description of the project
Build New Form – create a brand new form
Duplicate Existing Form – duplicates the form from a previous project of your choosing
Project Type – choose whether you want to collect Point, Line or Polygon data
Start Creating New Project – click on this button to go to the New Project page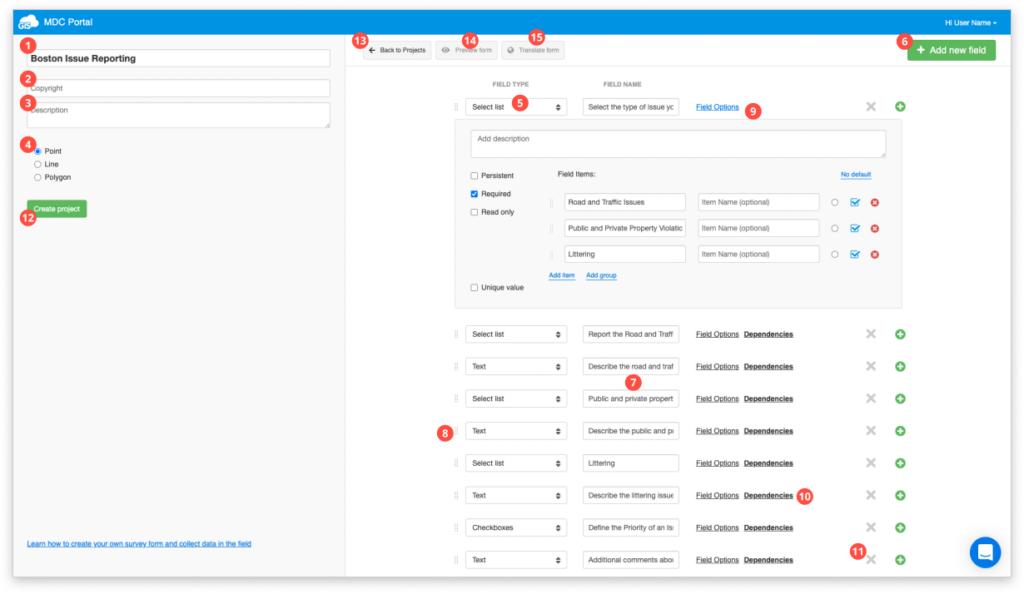 Name – name of your project
Copyright –copyright for your project
Description –a short description of the project
Layer type – choose whether you want to collect Point, Line or Polygon data
Form field dropdown menu – choose one of the form fields from the dropdown menu. Get an overview of form fields here.
Add new field – after you chose form field you wish to add then hit Add new field button
List of form fields – form fields which are already added on your project.
Move fields up or down on the list
Details – click for some more details on your fields.

Add description – provides an additional description of optional length to a particular field
Persistent – which remembers values from the previous submission.
Required – which means that the submission cannot be sent unless this field is populated.
Read only – the owner of the project controls which forms fields can be edited, and which are in the form as static non-editable data.
Default value – which is one of the values in the form or the default value.
Single line/multiline – which allows you to write in a single line/multiple lines (for Text field).
Autofill – auto-populate the field based on previously inserted values. Find more info here.

Dependencies – it allows you to manage sets of dependencies between fields. Find more info here.
Delete – it deletes a field from the list.
Create project – to finish creating the project and to start collecting just hit Create project button.
Back to projects – return to the project list
Preview Form – preview your form
Translate Form – use this option to start translating your form into different languages.
Note: It is not allowed to change or delete datasource created through MDC Portal.
Note: Add only one filed to your form and click on "Create Project" to enable autosave.
Once you are finished with creating a new project download Mobile Data Collection app to your Android or iOS device. Log in to your account, select a project you have created and start collecting. Take a look at our guide about field collecting with MDC app.
Learn more about creating a form for data collection in MDC Portal in our user guide. Also, take a look at our guide about dependencies.