How to create a form for data collection in Mobile Data Collection Portal?
GIS Cloud Mobile Data Collection is a mobile app (iOS and Android), connected to your web GIS Cloud apps, which allows you to collect data in real-time, work in offline mode, and much more.
Creating an MDC project refers to creating a custom form/survey containing adequate form items based on the information you wish to obtain, automatically linked to your table where the data will be stored, and a map where the collected data will be displayed.
Through our Mobile Data Collection app you can simultaneously create a custom form/survey connected with the project table (database) where data will be stored, and a map where data will be displayed.
The form is easily created and edited by choosing and adding adequate form items and additional options to adjust the data collection to your needs.
The map and layer/table connected to the form are automatically created and can be accessed through the MDC Portal app which offers a few basic features for organizing and reviewing your data collection workflow. The map can be additionally edited in the Map Editor if you have an adequate license (map name starts with MDC e.g., MDC: Project name).
Projects created this way are listed in the mobile app under the Projects tab.
Here's a quick video tutorial to get you started on the basics. You can also find the written instructions below.
To create a Form in Mobile Data Collection Portal, follow these steps:
Log into your GIS Cloud account and open Mobile Data Collection Portal or sign up first.
Click Create new project button. This option opens an empty form ready for defining a new project.
Define the project name, details and define form items that will be populated with data in the field.
>>> Learn here how to define form items by type.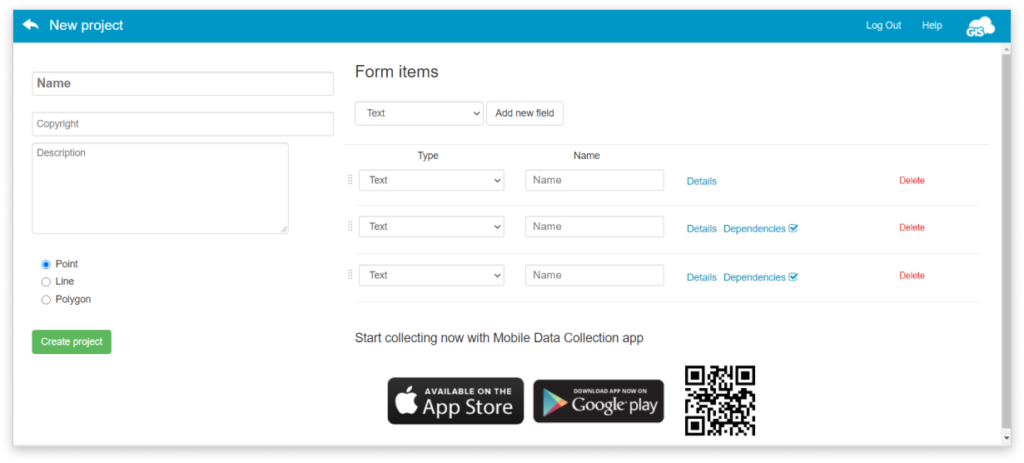 Click the 'Create project' button to create your project and save your form.
Download the Mobile Data Collection app to your Android or iOS device.
Log in the Mobile Data Collection app on your mobile device, select a project you have created and start collecting.
There are two ways to create a project for collecting data with our Mobile Data Collection app: through Mobile Data Collection Portal and through Map Editor.
Learn how to create a project through Map Editor in this guide!
Now that you have made a form, learn how to share the form with collectors and how to start collecting data from the field.