File Manager as data source
All spatial and non-spatial data (including media files) uploaded to your GIS Cloud account is firstly stored in your File Manager. Data can be added to the map directly from here, but only to use it for visualization.
The File Manager allows you to upload and manage your files easily. You can optimize your workflow by grouping the files into folders, edit their structure, rename and duplicate them as well as export/download them. Learn more about its features.
Important note: keep in mind that layers added to maps from the File Manager are not editable. To perform editing or data analysis, the layers must be imported in the Database. Learn more about how to import data in Database.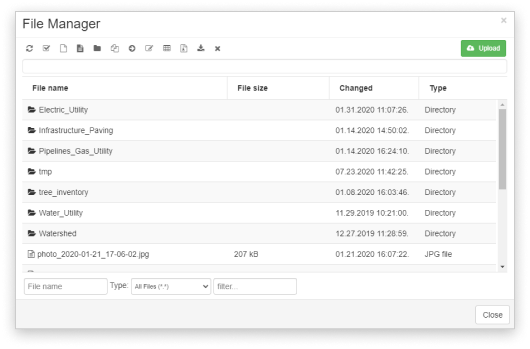 Adding layers
A layer from File System is added to a project as shown below:
Select Add Layer from the Layer or Map tab.
Select File System from the dropdown menu.
Select a layer you want to add to the map.
Add it by clicking on the Select option.