In Mobile Data Collection Portal, you can see collected data from the field in real time. As soon as data is sent, you can see its visual representation on the map view.
All recorded data, including photos and audio recordings, can be accessed and edited from the map. Furthermore, you can create a report and send it to your colleagues or clients or download data in CSV format.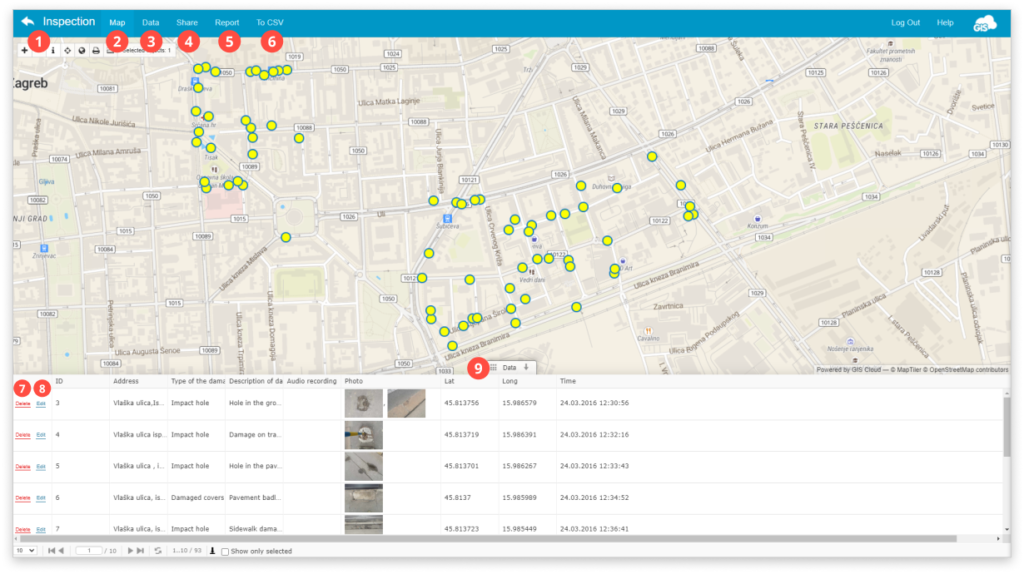 Go back to the List of the projects page.
Map – Click to get all of the collected data visualized on the map.
Data – Get more detailed information on the collected data.
Share – Share a project with other GIS Cloud users. Click here to get more info.
Report – Export collected data in the form of a report. Click here to get more info.
To CSV – Export collected data in CSV format. Click on the button and then hit Generate CSV to download it. Find more info here.
Delete – Delete the selected feature on the map.
Edit – Edit the attribute field of the feature. Click on it, and the Edit Attributes window will open. After editing attributes, hit Save.
Datagrid – Find the attribute information of every feature in the layer. Click here to get more info.
Learn more about sharing MDC project with another user and collecting data with MDC app in our user guide.
If you want to change the data appearance, change the basemap, or add other layers, you can do this by accessing the same map through the Map Editor. Check out our guides on appearance here.