Settings on Mobile Data Collection app can be accessed just after logging in or from the Settings tab in the app.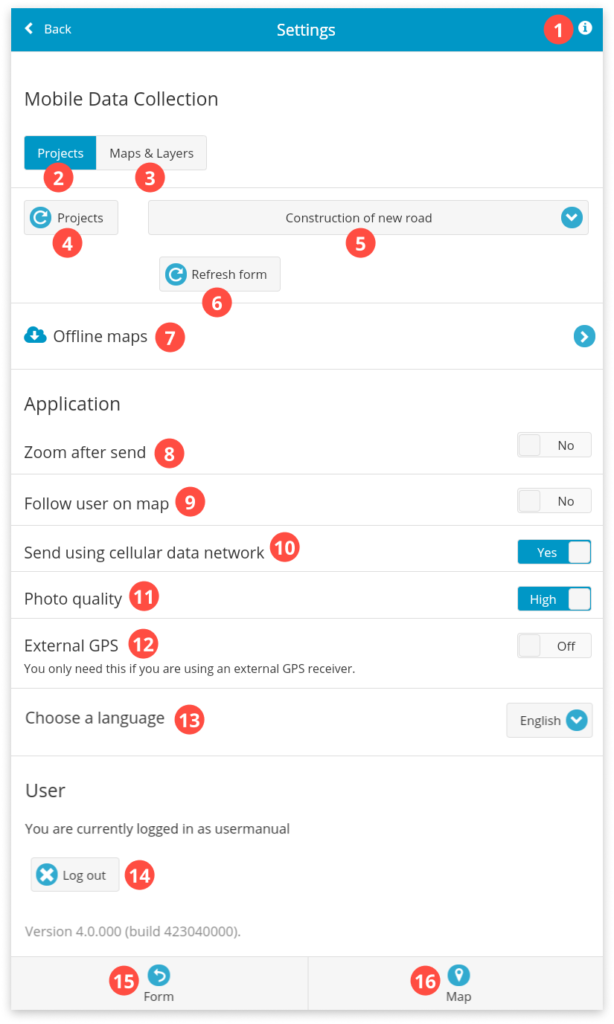 Here are the list settings you can adjust:
Info – short introduction tutorial for the app.
Projects – choose Projects if you want to open a form created in MDC Portal.
Maps & Layers – open any map or layer you created in Map Editor and start collecting data. Note that only database point layers can be selected from the Layers drop-down list.
Refresh Projects – refresh a list of projects or the maps.
Project/map name – choose the project or map from the dropdown list where data will be collected.
Refresh Form – refresh the form after the changes are made. 
Offline maps – makes a map available when there is no Internet connection in the area. Find more info here.
Zoom after send – when the new data is collected, this feature automatically zooms to the current mobile device's location if the option is turned on.
Follow user on map – if the option is switched on, pin on the map will adjust depending on the current map position.
Send using cellular data network – when enabled, data will send using a cellular data network. If disabled, your device will send the data you collect only via Wi-Fi connection and in that way prevent the app from using your mobile internet traffic.
Photo quality – choose between the high and low settings for the quality of photos taken with MDC.

The low setting gives 800x800px images.
The high uses the full resolution of your device's camera.

 External GPS – it's possible to collect data using external GPS. Click here for more info.
 Choose a language – choose between English, Croatian, and Chinese.
 Log out – log off from Mobile Data collection application.
 Form – return to the form and collect data. Click here for more info.
 Map – view and edit collected data on the map. Find more info here.
Learn more about collecting data with MDC app, offline maps, and using external GPS in MDC app in our user guides.