How to connect MDC app to an external GNSS device?
When collecting data using the Mobile Data Collection app it is possible to get more accurate location data by using external GNSS devices.
It's been confirmed that our MDC app works best with the following receivers:
Juniper Systems Geode Submeter Receiver
GNSS Systems from Trimble
Eos Positioning Systems
Bad Elf GNSS Surveyor
Trimble Catalyst
Stonex
Adding an external GNSS device is really simple in the GIS Cloud MDC app. The procedure is different for Android and iOS users.
Procedure for Android users
First, you need to do a quick setup on your mobile device. Follow these steps:
Connect your GNSS device to your mobile phone or tablet. Usually, this will require you to connect via Bluetooth, or also install a separate app in order to connect. Check the manufacturer's instructions!
Enable Developer settings on your device. This is usually done by tapping repeatedly on the Build number (found in the About section in your Settings), but it's best to confirm this is correct for your specific device as well.
Enter the Developer settings and turn on the Allow mock locations option.
Enable the Allow mock locations option in the GNSS app as well (if applicable).
When connected, you are ready to start collecting field data with the MDC app.
The next step is to log in to your MDC account and go to Settings.
On the Settings page of the MDC app, scroll down to find the External GPS button.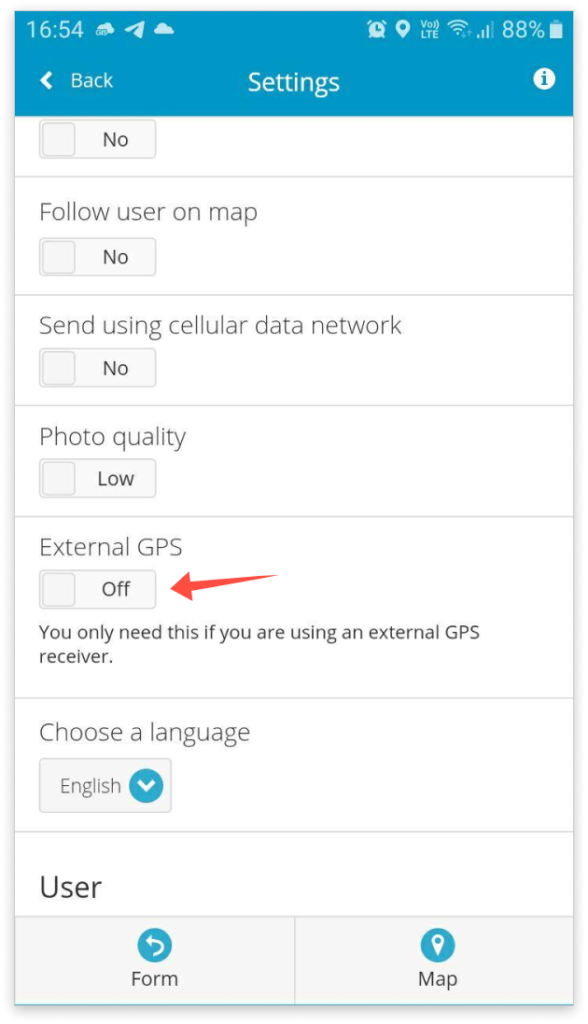 You can swipe or click on the button, and the External GPS option will be enabled.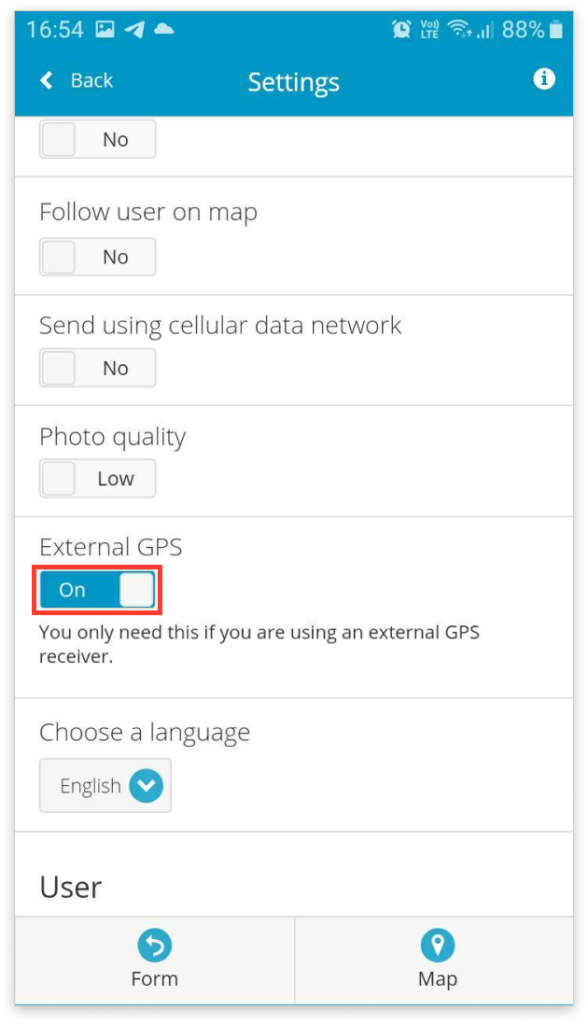 Procedure for iOS users
The first step for iOS users is to connect to an external GNSS device via Bluetooth connection. Once this is done, the MDC app will automatically recognize the connection to an external GNSS device and will use that data instead of the internal sensors. There is no need to swipe or click on the External GPS option in the MDC app. You can just open the MDC app and start collecting data.
Our team also wrote an excellent blog post on achieving higher accuracy data with external GPS, so take a look at this link.