Additional information about the map can be accessed and edited in Map Properties.
Info tab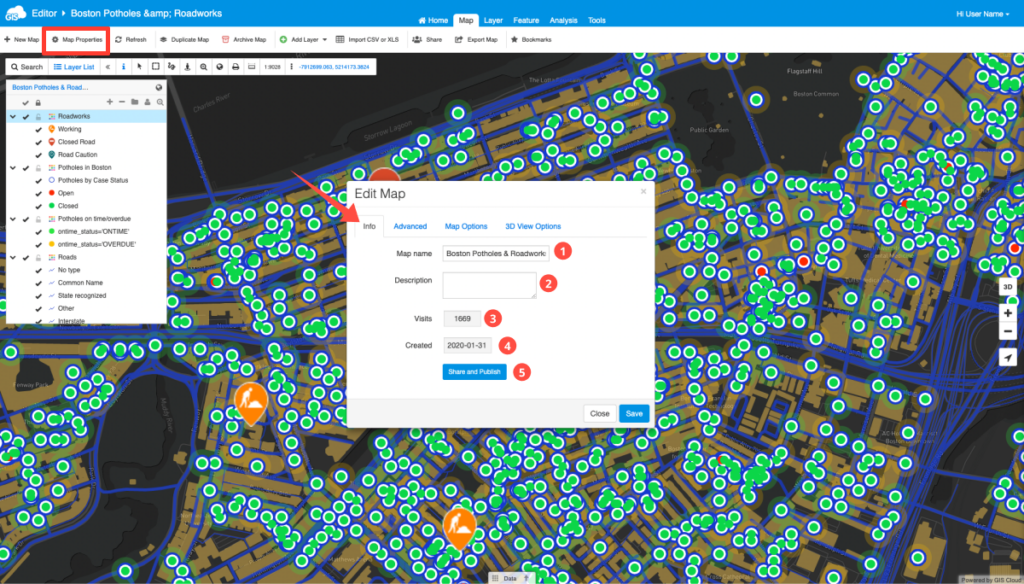 The following options are available:
Map name – Current name of the map. If you wish, you can change it.
Map Description – Short description about your map.
Visits – Shows the number of visits to the map.
Created – The date when the map was created.
Share or Publish – Share or Publish your map.
Learn more about sharing and publishing maps in our user guide.
Advanced tab
The following options are available:
Map Copyright – Allows for text to appear in the lower right corner of the map.
Projection – Select or change a projection from the list. Note that for maps with basemaps it is not possible to change the projection.

The projection can be defined by:

1) Searching for a projection by entering its EPSG number or
2) Searching for a projection by using keywords

Map units – Select from Meter, Foot or Foot US.
Background color – Defines background of the Map View.
Max zoom – Optional setting for scale dependency which limits the scale at which the layer is visible.
Bound – Saves coordinates of your current view (Get current view) or manually imputed coordinates. Every time you open your map or click on View entire map option in the Toolbar, you get the view extent of a map you set the bound to.
Clear map tiles – If you experience any problems with the map display, you can clear map tiles or reinitialize the map. You can also reinitialize the map by clicking on its' name on top of the Layer list. This way you also generate the Map ID in the URL e.g.
Map Options tab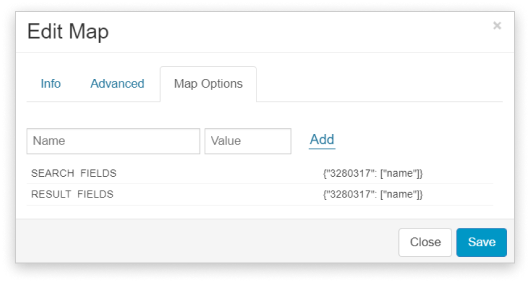 In this tab it is possible to set custom map options, e.g. custom search.
Learn more about setting a custom search here.