Review and manage MDC users
After assembling your team, you can manage each collector's role by providing them with adequate Mobile Data Collection permissions. 
Note: MDC licenses have to be assigned to the collector directly.
>>> Learn how to assign the MDC licenses.
The project manager can share the MDC project with their collectors and manage their access to the created data. Collaboration with other GIS Cloud users can be achieved through the Share or Publish panel in the Map tab.
When sharing your Map & Layer or Project with other users in the field, you can set permissions for each of them. By defining options for every user individually you can decide who will be able to collect, update, or just view shared data.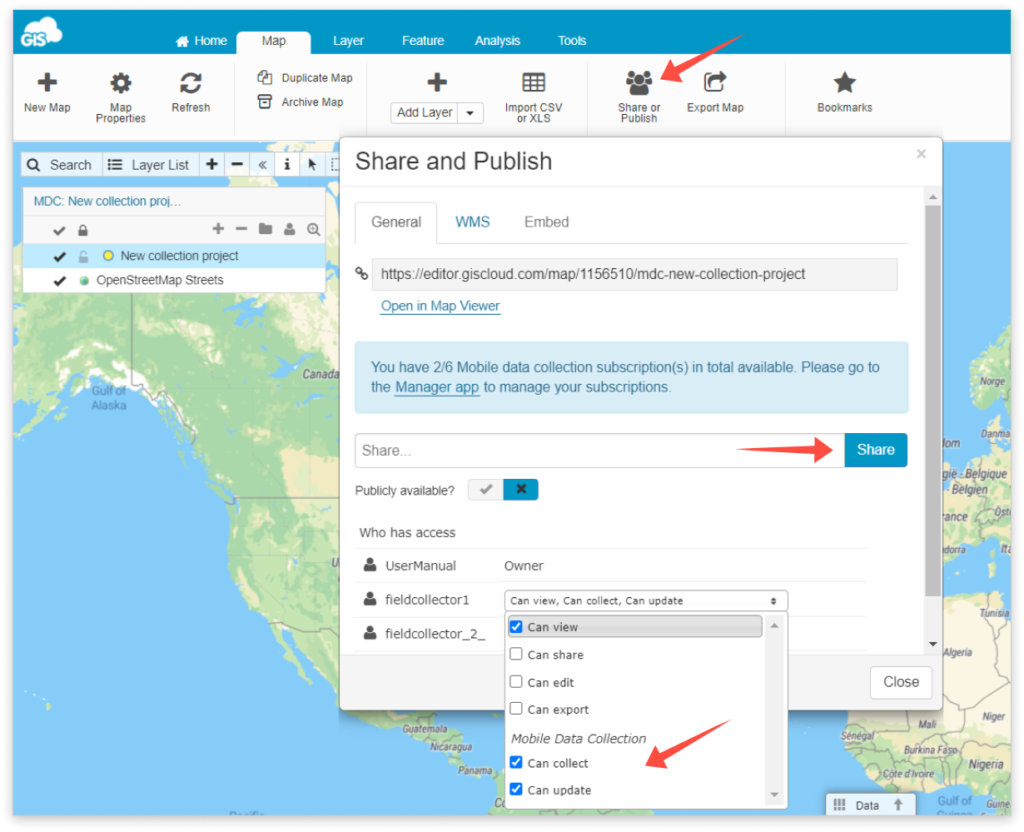 For data collection purposes, first, you must activate the View permission which will allow the person in the field to see shared data. This is basic permission that does not give any privileges to other users besides viewing data. Of course, regardless of which additional privileges you may want to give to the users (Update and/or Collect), it is mandatory that they can see the data.
Can collect – will allow the person in the field to send new data to a specific layer, but without the possibility to make changes to existing data or the one that he had already sent through the Mobile Data Collection application.
Can update – will allow the person in the field to make attribute and geometry changes for features in a specific layer, but without the possibility to send new data through Mobile Data Collection application. Note: deleting features is enabled with the Edit permission.
By enabling all permissions available for Mobile Data Collection, users can see, collect, and update all data in the shared Map or Project. Besides these, there are also Share, Edit, and Export permissions available.
Additionally, all the permissions can be given to a map, layer, and datasource. This way, in addition to the map privileges you have set for a user, there are additional sharing options you can set for each layer and layers datasource individually so you have complete control over your data and collectors.
>>> Learn more about all our sharing and collaboration possibilities.
Mobile Data Collection Shares
In the Manager app, you can review your mobile data collection shares. This will let you know which users have Can Collect and/or Can Update permissions on any of your data collection projects (it doesn't matter whether you created them through the MDC Portal or Map Editor).
To access this, open the Users tab in Manager, then double-click on the project owner's username. Under the User Details tab, you'll find Mobile Data Collection Shares. After clicking on View all, a window similar to the one below will open. You can remove Can Update and Can Collect permissions directly from here. Note that other permissions will remain, and need to be removed from the map directly.