How to buy a GIS Cloud license?
The licenses can be purchased and reviewed in GIS Cloud Manager.
Purchase a license
1. Open Manager app and login with your GIS Cloud credentials.
2. Navigate to Store tab.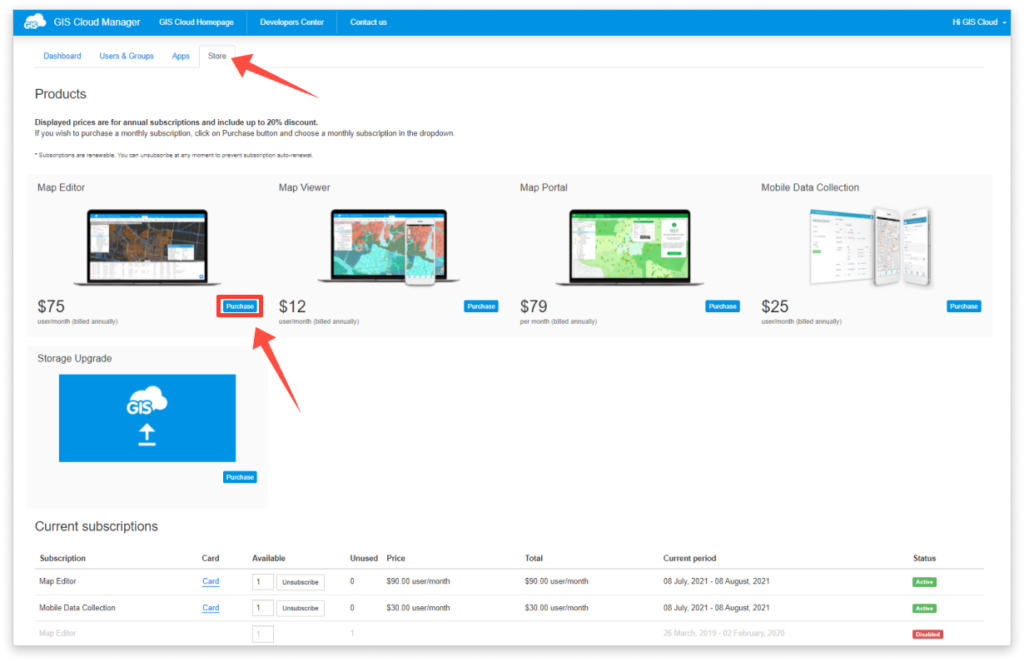 3. Select one of the apps and choose a plan

Note: if you have a question regarding licenses or the plan, don't hesitate to contact us at sales@giscloud.com.
4. GIS Cloud uses Stripe for purchases. When the plan is selected, the Stripe dialog will open. Add the credit card information and Pay button.
If you check 'Remember me' box, you will be asked to leave a phone number on which you will receive an Authentication code for finishing the purchase. For any additional purchases, you would like to make, the Authentication code will be sent as well before the payment is processed.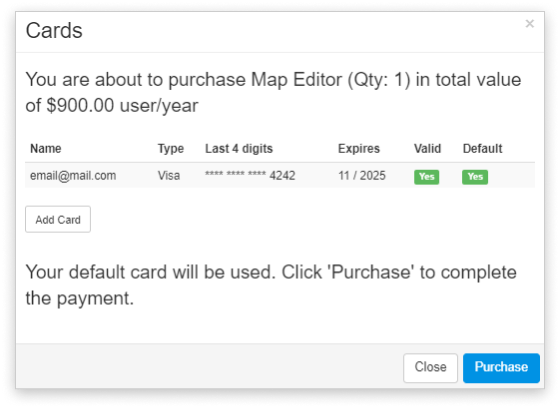 All subscriptions can be reviewed in Manager app, under the Store tab, on the bottom of the page under the Current subscriptions section.
Important note: Purchased licenses have to be assigned to the users. More about assigning licenses can be found here.
All GIS Cloud licenses are set on auto-renewal so you need to make sure to unsubscribe, if you no longer need to use them.
Review purchased licenses
The list of all purchased licenses is on the bottom of the Store.

Subscription – the name of the subscription plan
Card – info about the credit card
Available – the number of the available licenses is written in the box. The unsubscribe option will stop charging the credit card. You will be able to use the license until the end date.
Unused – the number of the unassigned licenses which have to be assigned to a user in order to use them
Price – the price of the license per user per month, year
Total – the total price of the license per user per month, year
Current period – displays the beginning and end date of the subscription
Status – The licenses can have two statuses: Active and Disabled. Active subscriptions will be charged again upon the end date, and disabled (unsubscribed) licenses won't charged again.
The expired subscriptions are greyed.