Creating, editing and sharing various types of data sources can be done with the Datasource Manager. In Datasource Manager it is possible to add, share or edit a new table, TMS, WMS, WFS or WMTS datasource.

Datasource Manager can be found under Tools tab. Clicking the Datasource Manager button opens the Datasource Manager options window.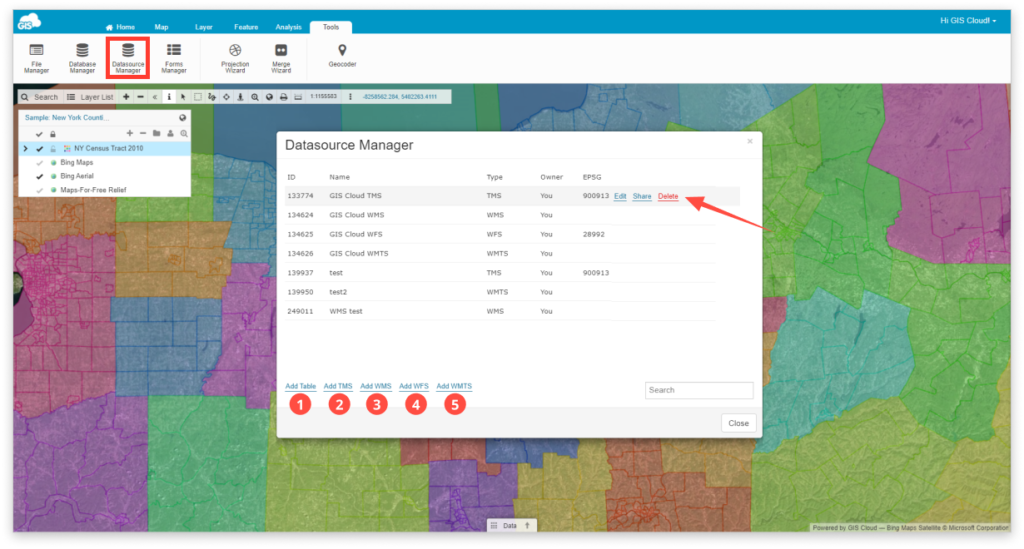 Add Table is used for sharing the datasource of the database table.

The table can be shared with View, Share, Edit and Export as well as with MDC permissions Collect and Update.

The main difference between sharing a layer and a datasource is that with the shared layer user can use the layer only within the shared map and shared data source allows using the shared table layer in any map, his own or the ones shared to him with edit privileges. Tables can be stored in the File Manager or in the Database. Take a look at our guides to learn the difference!
Add TMS (Tile Map Service) – TMS is a protocol for serving maps as tiles by splitting it up into a pyramid of images at multiple zoom levels.
With every GIS Cloud account there are numerous Tile Map Services at disposal, but with Datasource Manager can be added more. Learn more about TMS as a datasource.
Add WMS (Web Map Service) – WMS is a standard protocol for serving georeferenced map images over the Internet. A map server generates images from a GIS database and serves the map in a bitmap format (e.g. PNG, GIF or JPEG), while vector data can be included as an addition. WMS can also be added from an external source to the map. Learn more about WMS as a datasource.
Add WFS (Web Feature Service) – While WMS refers to the sending and receiving of geographic information after it has been rendered as a digital image, WFS can be described as the "source code" to the maps that one would view via WMS. Therefore, WFS data can be added to the map, edited, and analyzed. Learn more about WFS as a datasource.
Add WMTS (Web Map Tile Service) –  WMTS is a standard protocol for serving pre-rendered georeferenced map tiles over the Internet. You can also add it to the GIS Cloud and to the map. Learn more about WMTS as a datasource.