Classification by Attributes
Classification is grouping similar features into classes to organize your data more efficiently. You can modify the display of a layer based on the values of its attributes. Those values can be distinct or continuous. To make the classification process as easy as possible, you can use our Wizard to help you with expressions. However, every class can be modified to suit your needs, so you can manage expressions manually as well.
The classification tool can be found in the Appearance section on the bottom of the Layer Properties. To open Layer Properties, double click on the layer in a Layer List or click on Edit Layer in Layer tab.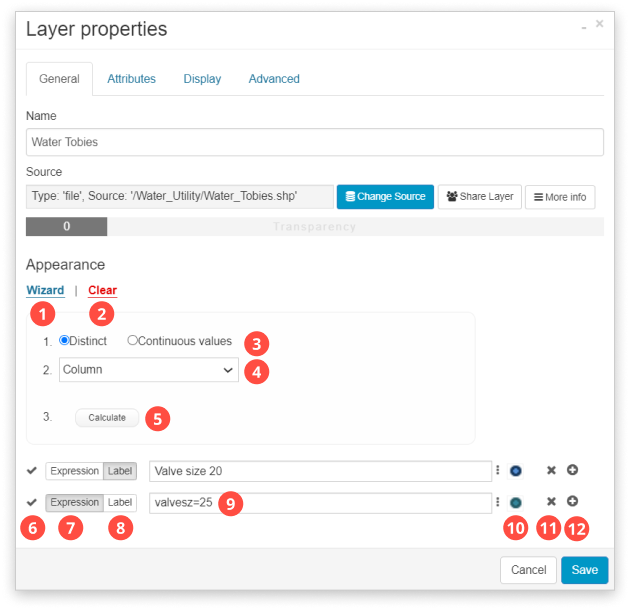 Wizard – use GIS Cloud Classification Wizard to create classes more easily
Clear – click to erase all classes
Distinct or Continuous values – choose between two options
Column – select Attribute column from Attribute table
Calculate – when everything is set up, click the button to create classes
Visibility – turn the visibility of the class on or off
Expression – query that selects a subset of features in a layer. You can edit query expressions, but make sure that there are features that satisfy the condition.
Label – class name visible in the Layer List. Label editing will not affect data in a layer, only class name.
Class field – in this field, expression or label is written. You can edit existing expressions or create new expressions by yourself. Take a look at the supported operators.
Appearance – click to change appearance settings for this class. Find more info here.
Delete Class – manually delete particular class
Add New Class – manually add new class
Learn more about how to classify data on your map in our user guide.