Mobile Data Collection Portal makes data collection and project management easy and collaborative. Use it to create your custom form for field data collection and also to visualize already collected data.
When you are done with creating forms, then install Mobile Data Collection app on your device (Android or iOS) and log in with your GIS Cloud credentials. MDC app allows you to collect data in real-time, work in offline mode, and much more. Find more info about collecting data with MDC app.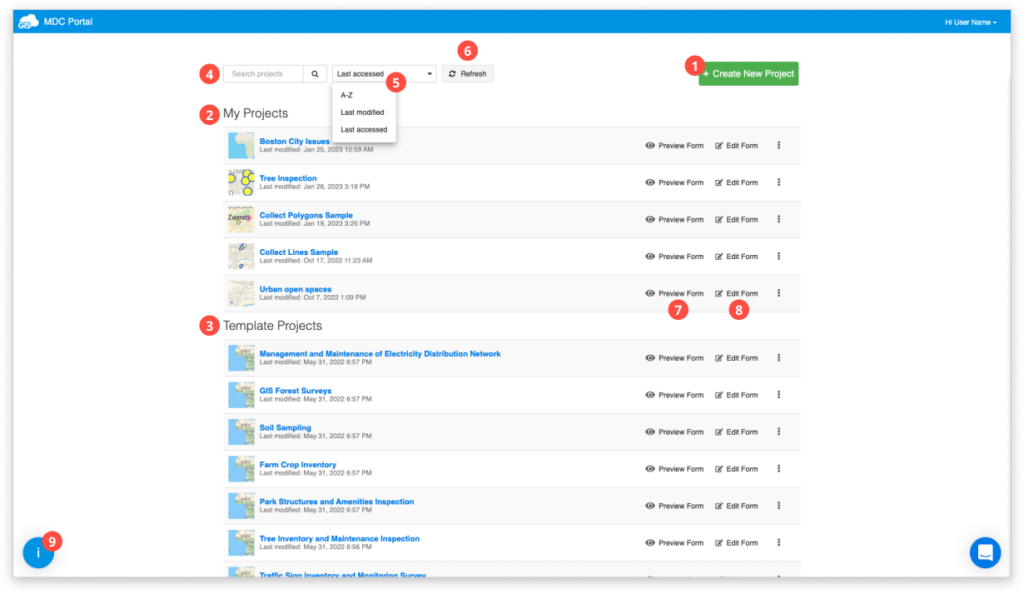 Create New Project – this option opens an empty form for defining a new project. Find more info here.
My Projects – list of your current projects.
Template Projects – list of sample projects.
Search – use this option to search your list of projects.
Sort – sort your projects alphabetically, by last accessed or by last modified.
Refresh – this option refreshes the list of projects.
Preview Form – use this option to preview the data collection form of your project.
Edit Form – click on this button to edit the form of your project.
Welcome tutorial – click here find a short introduction to the Mobile Data Collection workflow.
To open your project simply click on the project name. Once you open your project you can review and edit data collected in the field. Find more info here.

Open Project in Map Editor – use this option to open your project in the Map Editor where you can edit, review, classify and analyse your data.
Duplicate Form – use it to duplicate all fields and options, including dependencies, from the previous form. Click here for more info.
Archive – archives the project and you will no longer be able to access it in the MDC Portal. You can restore an archived project in Map Editor, if you own a Map Editor subscription.
Learn more about how to create a form for data collection in MDC Portal, how to create form for data collection in Map Editor, and collect data with MDC app in our user guide.